David Kurvink
Kids Play Tennis Director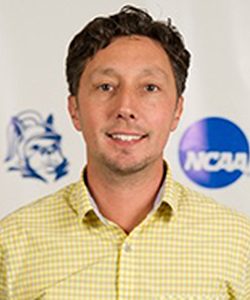 David Kurvink is currently the director of Men's and Women's Tennis at DeSales University and program director of Kids Play Tennis Community Outreach Program a non-profit for the development of affordable quality junior tennis in the Lehigh Valley. Kurvink and his staff were recognized as 2017 conference Men's and Women's coach of the year in their first year and broke school records with the women's team. USTA also recognized Kurvink and KPTennis on numerous occasions most recently with 2016 Community Tennis Association of the year and as a Premier Provider.
Kurvink is involved in tennis in many different levels and volunteers time to grow the game of tennis. He sits on a USTA National Committee, serves on the USTA/MS Board of Directors and is chair of multiple committees at the regional level.
Kurvink brings with him a wealth of coaching experience that includes serving as a head teaching professional at West End Racquet Club for four years, head men's tennis coach at Methodist University from 2008-11, head tennis professional at Stamford Yacht Club in the summers of 2002 thru 2010, head men's and women's coach at Adrian College from 2006-08, and an assistant tennis and squash coach at St. Lawrence University from 2004-06. While at Methodist he led the Monarchs to the conference semifinals twice and helped re-build the programs at Adrian College. He also earned teaching professional of the year honors from the USTA in 2012 while at West End.
He graduated from Moravian College in 2003 as a clinical/counseling psychology major with a minor in education/sociology. He was a four-time All-Conference player posting a 50-17 career record on the way to earning team MVP honors three times. Kurvink went on to earn his masters in school counseling and human development from St. Lawrence University.